Who are we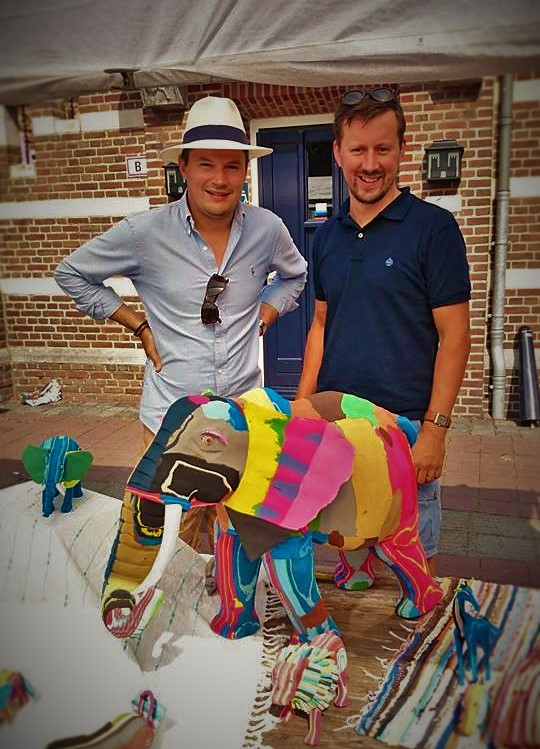 Nic & Mic is an abbreviation of Nicholas and Michael Ninaber of Eijben. The Dutch brothers are strong believers of the 'Trade Not Aid' concept.
Nic & Mic started distributing Ocean Sole works in the Benelux in 2014. Ocean Sole tackles problems head on. Tens of thousands of pounds of flip flops are processed into the colorful statues of safari animals annually. The statues are made by Kenyan artisans, who in return receive an honest salary. Equally important is the environmental awareness the artworks bring about.
Nicholas (standing on the right on picture)
Working with the Ocean Sole safari statues is a true pleasure. Everyone who sees them is excited about them! The real 'kick' comes when the viewer is told what the statues are made of. When we tell the story behind Ocean Sole they are all ears. The enthusiasm and creativity I get from trading these statues is a great reward in itself. It is very nice to be able to contribute to a cleaner world in such a way.
Michael
I discovered the beautiful Ocean Sole statues during an internship at the Dutch embassy in Kenya. Later it turned out that they are not only beautiful, colorful statues but also that the story behind it is inspiring. It's hard to imagine a better way of doing good than to spread Ocean Sole's color and in the meantime offer employment and work on the environment in Kenya. By being an entrepreneur in addition to my work as a civil servant I have become an enterprising civil servant. The creativity and energy that I get from Ocean Sole has changed the way I look at my work.