Posted on
By Annelie Ninaber van Eijben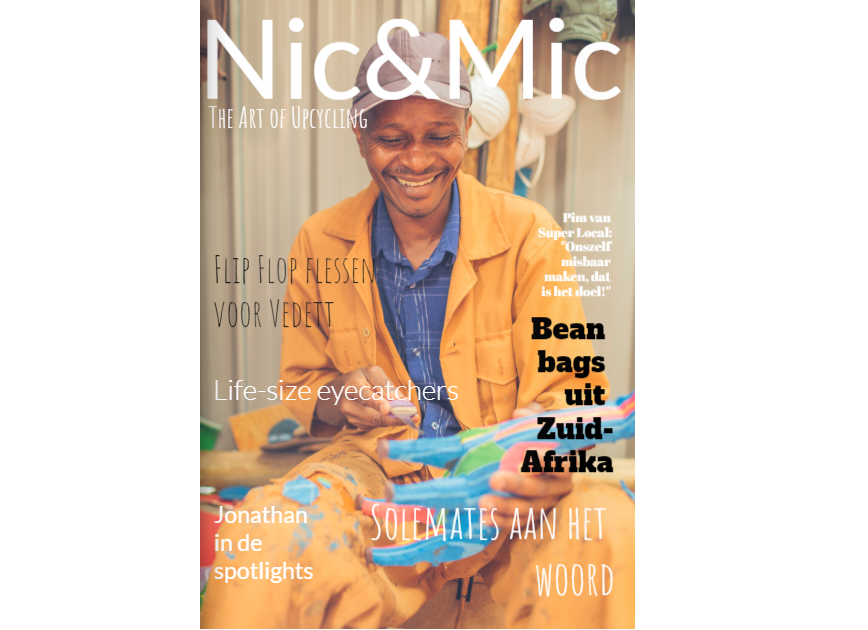 Het is alweer vijf jaar geleden dat we begonnen met een boven verwachting succesvolle crowdfunding campagne om Ocean Sole naar Nederland toe te halen. Dit was het startschot van Nic&Mic, een onderneming met een duurzame én sociale missie!
Toen we Ocean Sole leerden kennen was het een klein bedrijfje met twintig personeelsleden en werden de beelden voornamelijk lokaal verkocht aan toeristen. Inmiddels verkopen we de Ocean Sole kunst in heel Europa en werken we nauw met hen samen bij de verbetering van diverse processen. Vandaag de dag heeft Ocean Sole negentig werknemers en dit jaar verwachten jaar één miljoen teenslippers te gaan upcyclen.
Het succes van de afgelopen vijf jaar smaakt naar meer! Wat we met Ocean Sole hebben gedaan kunnen we hopelijk voor veel meer mooie Afrikaanse 'upcycle' initiatieven. Ons streven is om Nic&Mic uit te laten groeien naar een platform voor duurzame en sociale merken die elkaar versterken, 'The Art of Upcycling'.
In deze eerste uitgave van het Nic&Mic - The Art of Upcycling magazine vertellen we meer over onze avonturen, laten we een aantal medewerkers en onze Solemates aan het woord en introduceren we onze nieuwe uitdaging, 's werelds eerste circulaire zitzak!
Via deze link, kan je het magazine digitaal lezen! 
Het Nic&Mic team,
Annelie, Karin, Michael en Nicholas